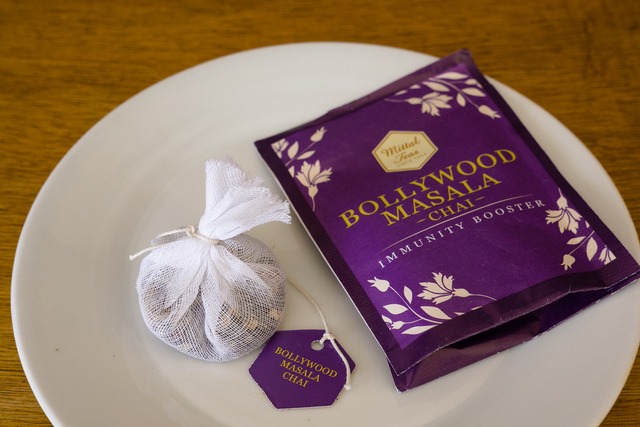 Mittal Teas Bolly Wood Masala Chai Eco-Friendly Bags 20packs ec-43
SOLD OUT
Japan domestic shipping fees for purchases over ¥15,000 will be free.
Shipping fee is not included. More information.
Tea Bag マサラチャイ
アッサム地方の厳選された茶葉とケララ州のエキゾチックなスパイスを組み合わせたインドの伝統的なレシピです。ハーブの選択と配合は、古代インドのアーユルヴェーダに基づいています。
原材料 紅茶、フェンネル、ジンジャー、ブラックペッパー、シナモン、グリーンカルダモン、ローズ、クローブ、トゥルシーがブレンドされており、
手軽にチャイが楽しめます。

実はこのTea Bag 長くなりますがストーリーがあり、
既存の紙製ティーバッグは、お茶がまずいという悪評だけでなく、品質も良くない。
そこで考え出されたのが、手作りのモスリン製ティーバッグです。
モスリン生地の目の荒さが丁度良く、仕上げられています。
当時から、フルリーフ、生分解性、手作りだけでなく女性に収入を得れるようにと、
このTea Bagの仕事に100%女性を雇用し収入や技術にも貢献するきっかけになったそうです。
今ではポトリ(ヒンディー語で束の意、ここでは手作りのモスリン製ティーバッグのこと)は大きな高級ホテルにも納品されています。

ミッタルさんは言います。
"購入者だけでなく、地域社会にも価値を与えることができる方法を探してください。
世界のどの地域にも、まだ探求されていない文化的側面があります。
それを活かせば、きっと驚くことでしょう。"
1つのTea Bagですがころんとした可愛いさだけでなく
色々と気づかされるとは思いもしませんでした。

正味重量 40g (2g x 20)
It was then that we came up with handcrafted muslin teabags.
Ingredients: Black Tea, Fennel, Ginger, Black Pepper, Cinnamon, Green Cardamom, Rose, Clove, Tulsi.

<Mittal Teas >
INDIAで1954年
Professional Tea Tasterの
現オーナーのVikram Mittalさんの先代から始められたTea shopです。

<Mittal Teas >
Professional Tea Taster Vikram Mittal's Tea Shop.
From the mystical land of India, we bring you the finest qualities of tea.
Add to Like via app
Shipping method / fee

Payment method
¥670 tax included
SOLD OUT